Get to Know JuiceLand and CEO & Founder, Matt Shook
Eight-foot gorilla statues, giant banana dolphins, and Instagram-worthy murals?
Stop by any of JuiceLand's locations, and you'll be greeted by colorful, retro art and eclectic music. The beloved Texas smoothie chain was founded by Matt Shook in 2011, and has 35 shops spread out between Austin, Houston, and Dallas. JuiceLand is known for its delicious superfood smoothies, organic juices, and plant-based meals.
After a four-year absence, whey protein has returned to its menu. In partnership with Perfect Day, JuiceLand has added three delicious and nutritious offerings made with our sustainable, animal-free whey: The PB Sundae smoothie bowl, The Chocolate Whey Smoothie, and The Cosmic Charlie smoothie. Our animal-free whey protein can also be added to any smoothie or bowl on the menu for an extra 26 g of protein per serving.
We sat down with Matt to talk about JuiceLand's journey growing from one store to 35, his eclectic taste in music, and experience bringing whey back.
What's your name, and what do you do?
My name is Matt Shook, and I'm the founder and CEO of JuiceLand.
Tell us about Juiceland.
Austin-bred JuiceLand is best known for its delicious superfood smoothies, organic juices, and plant-based meals. We're committed to bringing fresh, friendly, and authentic service to their communities. If you find yourself in Austin, Houston, or Dallas, pop into one of our shops and grab a delicious drink, peruse the record selection, and grab a photo next to one of our unique murals.
What is JuiceLands ethos?
We want to make a positive impact on the health of our community and our planet, so we're all about making plant-based cuisine tasty and convenient. The reason that we're proud of JuiceLand's ethos is less than 1% of restaurants in America are vegetarian. So it's very, very unique to have a business that's successful, that is, just a vegetarian restaurant. And we think we can make vegan taste good.
Why did you start JuiceLand?
I started JuiceLand because I wanted to do something positive for my community while working with my friends right down the road from my personal heaven on Earth, Barton Springs Pool. My family uses JuiceLand as a fueling station, and we get to run into people from all over town, so as one of my best buds says, "it's like a clubhouse for your crew."
How did you start JuiceLand?
JuiceLand began as a way to relax and enjoy life. We're still all about this. In 2001, I took a break from swimming at Barton Springs Pool to get a fresh carrot, apple, and ginger juice at a little stone cottage called the Juice Joint. Figuring it was just a stone's throw from the Springs and that it'd be fun to work at a juice bar, I applied for a part-time summer job. That decision changed my life in the most incredible ways, and soon I was my own boss. My sense of humor, love of music, and commitment to excellent customer service gave our guests a truly uplifting experience. My deepest source of pride is the fun-loving team I assembled in those early days. Even as the team has grown, we've stayed true to our mission to provide authentic service to JuiceLand's loyal fan base. Fueled on yerba maté and organic green juice, I am obsessively listening to both customers and my "juice crew" daily, brainstorming the latest menu ideas, driving sustainability throughout the company, and identifying nonprofit organizations to support through JuiceLand's Feel Good, Do Good donation program.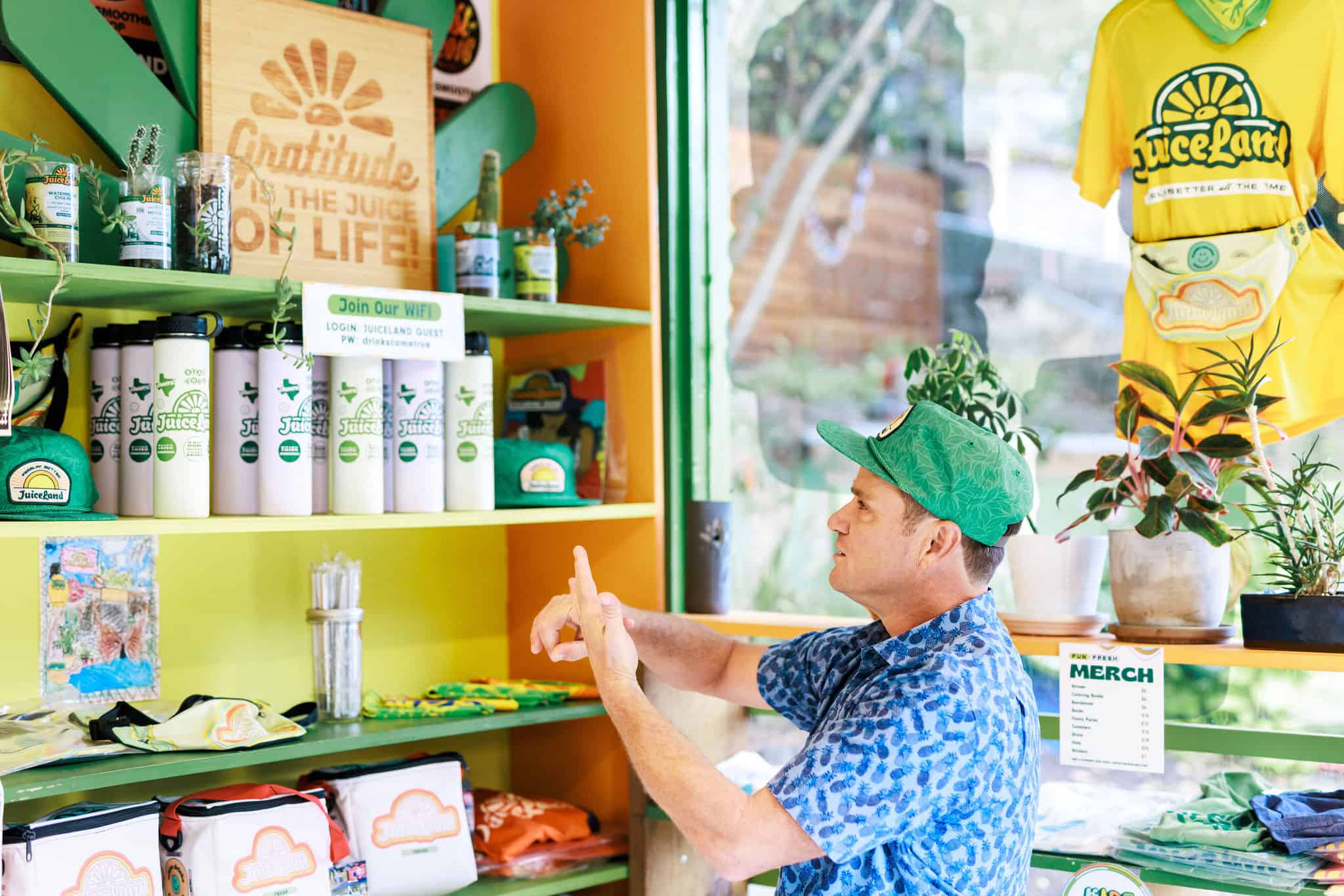 How'd you hear about Perfect Day?
We get about 10 to sometimes 30 emails a day from companies that want to partner with JuiceLand. And most of them kind of just go through our inbox, and you know it's not the right timing. But when I saw animal-free whey protein, I immediately sent it to our purchasing director and said we have to look into this.
How has Perfect Day's whey changed or expanded your customer base?
People are super excited because many plant-based proteins only have 6 or 8, or 10 g of protein per serving, and Perfect Day has 26 g. It's become way more popular for those folks that are looking for a lot of protein.
How does Perfect Day's whey align with JuiceLand's business goals?
At JuiceLand, we love to be out ahead of the trends. We introduced CBD in 2016 before it was popular; we introduced golden milk lattes with fresh turmeric before I'd seen it in many other places. We try to stay ahead of things, and having animal-free whey protein on the menu is another example of JuiceLand being ahead of a trend that I think will grow significantly.
Can you share a special story about impacting a customer's life?
Most of our staff started as customers before working at JuiceLand, so I'll share a bit about a program we have. We offer a scholarship called Fresh for Life to help people achieve their goals. From becoming a certified yoga teacher or a doula to finishing school or even starting their own business, our Fresh for Life program lifts spirits in ways I could never have imagined. It's such a good feeling to help people actualize a dream!
What is your ultimate feel-better drink?
One of our past Feel Good, Do Good specials stands out to me. The "Super Fun Guy" smoothie has mango, turmeric, and cold-pressed pineapple & orange juice, along with coconut oil, mood-enhancing superfood mushrooms, and spirulina. I'll make it even more fun by adding CBD oil. I call that one a "Super Fun Guy and a Pretty Chill Dude." Plus, our Feel Good, Do Good monthly specials give proceeds to selected local charities to which we've donated around $80,000 to date and growing!
When visiting a store, music appears to be a core part of JuiceLand. What musicians and albums have inspired you?
Look at the KUTX playlist I sent across Austin radio waves; the music will tell the story. We sell records in many of our shops with an eclectic array of titles, but for me personally, I felt pretty validated in my music taste when Kendrick Lamar won the Pulitzer Prize. That dude has an epic cadence, arrangement, production, and message.
What do you recommend a first-time customer to order at JuiceLand?
A Home Run smoothie. We fresh press two apples and blend the juice with chunks of strawberry and hand-peeled bananas. Three ingredients. So simple. So amazing. And once you've had that, you've got a great baseline to get more complex with the rest of the menu. Or try the Wunder-showzen if you just want to trust us.
Where is JuiceLand headed next?
We continue to thrive off the energy our guests bring to us and are constantly striving to make drinks come true and keep people on the path to feeling better. As we say all day long – "cheers to your health!"
We'd love to hear your thoughts!
Your email address will not be shared.